Energy Generating Glass
Creating Power through Renewable Energy in BIPV and BAPV Systems
Onsite Renewable Energy Solutions Towards Net Zero Energy Buildings
Businesses and industries are increasingly moving towards renewable energy in Asia Pacific to reduce emissions, lower energy costs, and improve eco-friendliness. Renewable energy is set to account for almost 95% of global electricity generation by 2026. Renewable energy only accounts for 13.7% of ASEAN's total energy supply in 2017 and has remained relatively stagnant. A rapid increase in adoption will be required to reach the regional ASEAN target of increasing renewable energy to 23% of its total energy supply by 2025. With a variety of renewable energy sources such as concentrating solar power, solar panels and wind turbines, key sectors such as the construction sector are urged to take action and implement policies that contribute to meet net zero energy targets.
Within the building industry, many are looking towards onsite renewable energy for net-zero energy buildings (NZEB), with solar power technology as the key solution. With renewable energy sources such as Building Integrated Photovoltaics (BIPV) that can be installed in BIPV and BAPV systems, the electricity generated can reduce the direct carbon emissions of buildings.
Sources:
World Economic Forum, 2019, Can Southeast Asia keep up with growing energy demand?
International Energy Agency, 2021, Renewable electricity growth is accelerating faster than ever worldwide, supporting the emergence of the new global energy economy
International Energy Agency, 2021, Net Zero by 2050 A Roadmap for the Global Energy Sector
ASEAN Centre for Energy
SunEwat, Energy-generating glass (BIPV)
Building Integrated Photovoltaic (BIPV) is a laminated safety energy generating glass that serves dual purpose as building envelopes while also incorporating either photovoltaic cells or ultra-thin film (opaque or semi-transparent). It is an onsite renewable energy source that makes up the outer layer of a building structure to generate electricity on-site using solar energy. As the photovoltaic cells are integrated with the glass, it negates the need to have separate conventional solar panels installed on the rooftop.
SunEwat is AGC's glass-embedded photovoltaic solution, offering architects an efficient and aesthetically pleasing solution for energy-generating glass facades. It is recognised under multiple green certification schemes such as LEED and BREEAM Green Buildings Certifications and helps new buildings meet the requirements for the Green Mark Scheme. The SunEwat glass modules are produced to order and can be fully customised to meet project specifications. They can be combined with other glass products solutions such as double glazing, screen-printed glass and coloured glass. This allows for full functionality and flexibility such as transparent solutions for use in façade windows, and opaque solutions for non-vision areas such as spandrels and wall cladding. With its limitless possibilities, SunEwat is the perfect material to include in any low carbon building design. AGC is the #1 BIPV glass supplier for all your needs.
JR Takanawa Gateway Station, Japan, SunEwat Vision Square
AGC Kashima Plant, AGC's own Net Zero Energy Building (ZEB)
In 2018, AGC successfully constructed the administrative office building in our Kashima Plant (located in Kamisu City, Ibaraki Prefecture) as a ZEB under Japanese standards. Covering a total floor area of 1,435 square metres, the front part of the two-storey building uses AGC glass materials that combine the use of high-heat insulating effects and photovoltaic modules to achieve not just energy savings, but also energy generation to achieve net-zero energy. The building's estimated energy-saving and energy-generating performances are:
50.4% reduction in energy consumption by energy-saving products relative to a reference building; and
64.3% generation of energy by energy-generating products equivalent to a reference building's energy consumption
In addition, the walls and other parts of the building utilise other AGC Group heat-shielding and insulating products to reduce energy consumption to increase energy-saving effects. This ZEB serves as a showcase for AGC's environment-friendly products. The facility is expected to achieve a total energy reduction of 114.7%*.
*The amount of energy reduction as compared with the standard energy consumption (i.e. A total amount of energy consumption, including air-conditioning, ventilation, hot water supply, elevators, for each region, building/room-type as designated in the 2016 energy saving standard).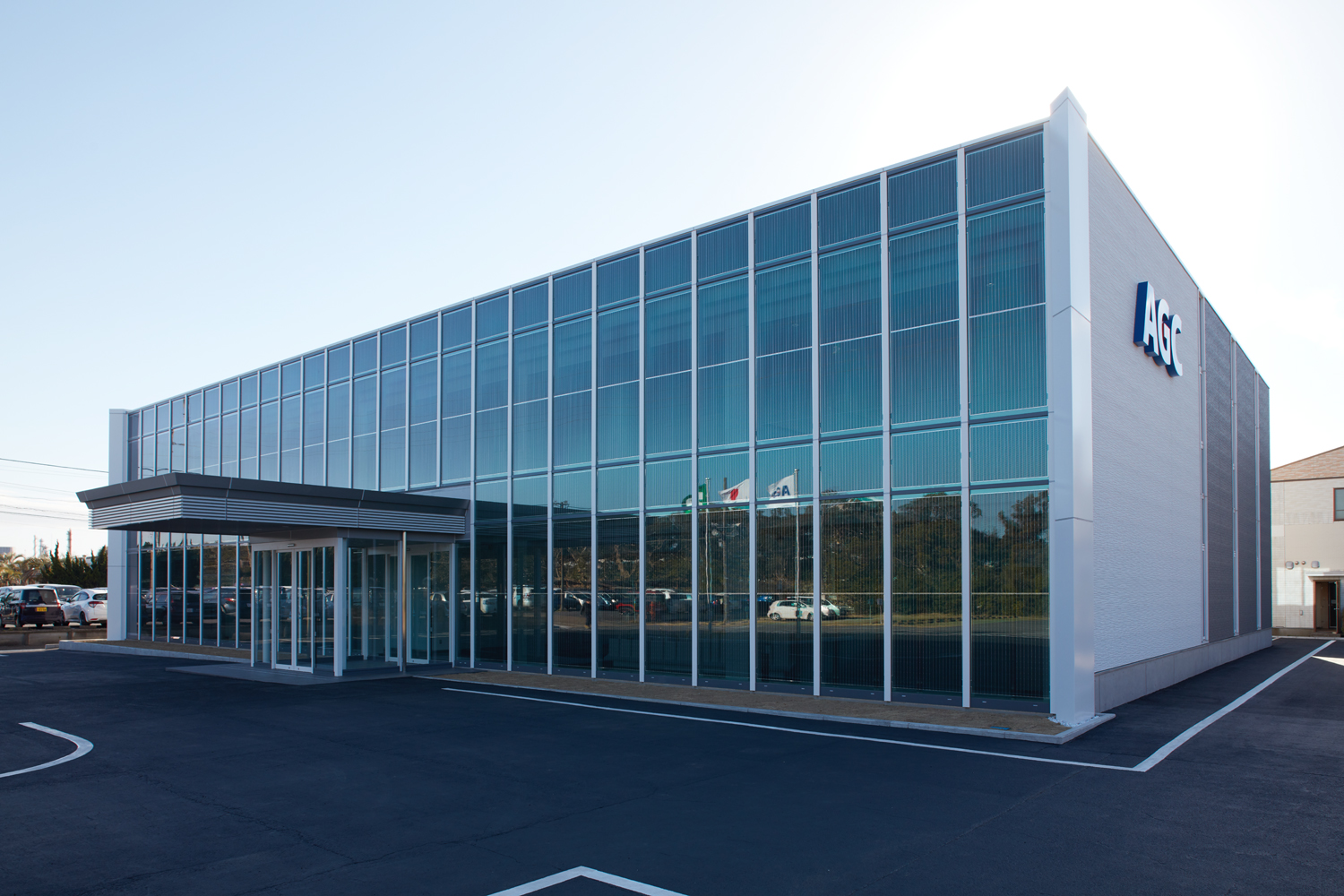 AGC Kashima Plant, Japan, SunEwat Vision Stripe