Sunfort
A high shading glass that provides maximum energy efficiency yet offers interior visual comfort in the living spaces
Sunfort is a specially designed glass that can turn any space into a comfortable fort that protects you from the tropical heat within a single glaze. High shading and emissivity prevent heat from entering living spaces.
Low external reflectance protects your eyes as you approach, also allowing Sunfort to be part of most building facades according to regulations in place within the Asia region. Adherence to OTTV regulations results in superior energy savings and comfort, bringing buildings a step closer to green certification.
Best of all, aesthetic designs make it easy to create your dream space. This is how we turn harsh tropical sun rays into gentle beams that inspire and brighten any day. This is how we create your ideal tropical comfort zone.
Sunfort 29T features a light transmission of 29%, with high shading and low emissivity. This single glass has neutral grey aesthetics and is lightweight compared to double glazing units.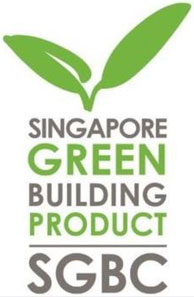 Sunfort is SGBP certified. Please contact our sales representatives for more information.
Sunfort 29T
Solar Protection
Protection from the sun.
Low Reflection
High transparency thanks to very low light reflection in line with modern design trends.
Thermal Insulation
Excellent thermal insulation that keeps heat in (oven doors and residential applications)
Thermal Comfort
By regulating heat and cold, this glass provides optimal indoor comfort.
Maximum Energy Efficiency
Lower air conditioning and heating costs.
Excellent High Light Transmission
Maximum natural light entering the building.
Durable Coating
Pyrolytic coating, ensuring the durability of the treatment and making storage and handling worry-free.
Sustainable Product
Glass is certified under Singapore Green Building Product (SGBP) Labelling Scheme.
Warranty
Glass product is offered with warranty.
Brochures and Technical Documents